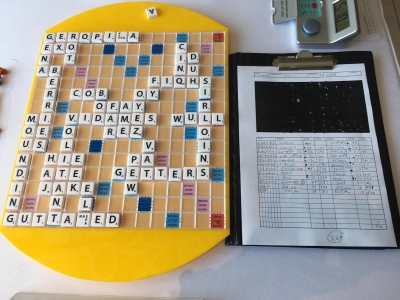 The Round 7 match up at the Main Event in MISO 12 between David Webb and Bob Violett has been celebrated pretty much since the game completed.
The 711-502 scoreline, making a combined score of 1213 was the first time ever that the 1200 barrier had been broken in a WESPA rated event.
It also broke the near 10 year record of all time combined scores: Philip Edwin-Mugisha's 627-530 win over Vannitha Balasingham in 2009.
Many games have come close to beating that game (one as recent as 2017) - David and Bob's game not only beat it, but set a high benchmark for players wanting to take the mantle.
From the opening play of VIDAMES, the triple triple of GUTTATED and the wonderful GEROPIGA, the game was a joy to observe.
With thanks to technological advances since the initial highest combined score, there are many ways you can follow this game.
Unlike previous efforts, this game was not just available on annotation after the event - indeed, with thanks to the work of the excellent John Chew, this game was live streamed on his Facebook page Poslfit.
Moreover, on David's own YouTube channel, he has included an analysis of the game as part of his
Dweebovision series.