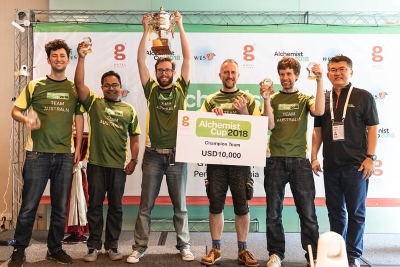 Michael Tang had observed, prior to Alchemist Cup, that Australia were one of the favorites going into the event; this was a view not shared by many others according to a poll in WESPA's Facebook Group, which placed Nigeria as a strong favorite ahead of the US and the Rest of the World further back in third.
Somehow it meant that a team where every player had been national Champion (with one of them the current title holder) and had a WSC runner-up and World Champion in their team entered a team event where many (except, of course diehard Aussies) did not think they would win.
In structuring the event in the way that it was, the intent was to determine the overall team winner as late as possible, ideally into the last round. True to form, this was the case, as Chris Hawkins reported to Facebook "One by one they slowly appeared. 2-0 to USA, 3-0 to USA. Wait 4-0 to USA! The Australia results started to appear more slowly with only one being there for the longest time, a win for ROW, then three more appeared 2-0 ROW, 3-0 ROW. Wait! 4-0 ROW!!!
So, both matches were now decided, ROW had beaten Australia and USA had beaten Nigeria. But surely the 5-0 whitewashes that the USA desperately needed and Australia dreaded weren't going to come to pass were they?"
The final two matches in the respective rounds went favorably for the Aussies and led to #TeamAustralia emerging victorious by near to closest of margins, making them the inaugural winners of The Alchemist Cup.
Could it also mean that more will consider them favorites for 2020?