Article with thanks to Evan Cohen

Scrabblers have something to look forward to this coming February. Once again, it's time for our annual international event, the Israeli Open. Ever since 2008, the Tel Aviv Scrabble Club has hosted our flagship tournament all over Israel, from the Crusader Fortress of Akko up north, to Israel's capital, the phenomenal 3000 year old city of Jerusalem.

This year, the 12 th Israeli Open will be taking place in what is probably one of the most vibrant cities in the world, Tel Aviv. A quarter of an hour by train from the major international airport in Israel (Ben Gurion), Tel Aviv is very central, with direct public transport (trains or busses) to almost every city in Israel. Regardless of which touristy places you'd like to visit during your stay (and there are plenty), everything is very accessible from Tel Aviv.

Situated in the middle of Meir Park, the playing hall itself is in the heart of Tel Aviv, only moments away from everything. The venue is surrounded by Airbnbs, and there are dozens of hotels – cheap hostels, medium range hotels, boutique hotels or five star hotels – all within walking distance. The beach, mind you, is about a 10 minute walk from the venue (though the temperatures will probably be in the high teens this time of the year). And just in case you get peckish, there are dozens of restaurants in all directions, many of which are open until after midnight, some of which are open 24/7 (quite normal in Tel Aviv…). There is even a restaurant on the ground floor of the building we're playing in!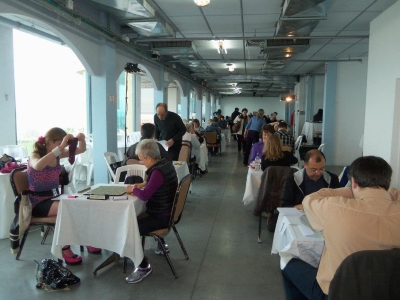 Scrabble play in Israel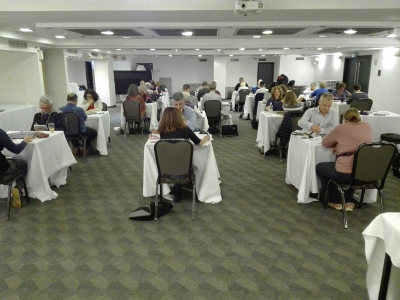 Israeli Open in previous years
Our events are three days long, during which we play 22 games. The 12 th Israeli Open is no different. We start play at 9:30/10:00 (depending on the day) and our evenings are always free. And you're in Tel Aviv. Trust me, you'll want free evenings! The full schedule can be found on the tournament website (see link below). All tournament information and registration options can be found on the tournament website too.
The past Israeli Opens have taken place all over Israel and participants have come from 19 different countries, with winners from 5 different countries (Israel, England, Canada, Singapore, USA). Evan Cohen and Elie Dangoor have been the only repeat winners. Will this year add a new name to this short list?
ISRAELI OPEN HONOUR BOARD
2008 Evan Cohen

Champion

2009 Adam Logan

Champion

2010 Sam Kantimathi

Champion

2012 Mikki Nicholson

Champion

2013 Elie Dangoor

Champion

2014 Toh Weibin

Champion

2015 Graham Haigh

Champion

2016 Evan Cohen

2 time Champion

2017 David Webb

Champion

2018 Evan Cohen

3 time Champion

2019 Elie Dangoor

2 time Champion

2020 Could it be you?
If you want to learn more about this event, you can click on this
website
. There is also a
Facebook event
set up for those on social media.
For further information on Israeli Scrabble, you can check out
the WESPA landing page for Israel
- two years ago, WESPA published this
profile piece
which also contains a brief history of Israeli Scrabble.