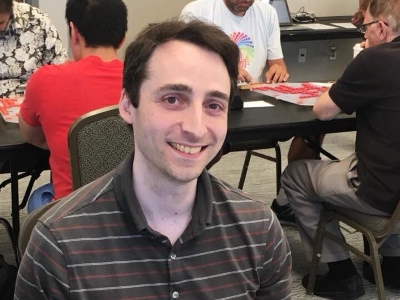 For much of the last four days, the name on the winner's trophy looked like a foregone conclusion - last week's NASC TWL runner-up, and the current WESPA #2, Nigel Richards looked like taking all before him after losing the last three in Buffalo.
A Round 3 loss to Amit Chakrabati paved the way for a 14 game winning streak, including wins against two former World Scrabble Champions and the defending Champion at the event.
Nigel's second loss did not come until the last day... in the first of what would be four straight games against Will Anderson.
Will Anderson's tournament started fairly similarly, this time with a Round 2 loss to George Macaulay which paved the way for a mini winning streak of 4, broken in Game 8 by multi-times Australian Champion John Holgate. A Round 12 loss to Becky Dyer the only blemish until Nigel took out Game 19, 504-354.
Their game before was a comprehensive 556-359 win to Anderson.
That win was to be Nigel's final for Niagara, as he went on to lose the last two to Will - including the last, which you can
play through here.
This was the second time in a week where Nigel Richards lost the final games to bow out of victory and the third time in 12 months where this has happened.
For Will Anderson, last year's NASC Champion in TWL had taken out one of the biggest Collins tournaments for 2018.