Ratings, and rating displays, have long been a source of high engagement for competitive Scrabble players; it follows that people are keen to find out how they went and to benchmark themselves against others.

And, whilst things like word lists change periodically, the ratings system used by WESPA has stayed relatively stable.

Aardvark became official for WESPA on May 28, 2012. In the original statement on the WESPA website, "With the upgrade of Aardvark to take into account the new ratings having been previewed last week, many people have noticed that the ratings on the site have changed...The result of this is a stabler, fairer ratings system, and one that has increased the capacity and lifespan of the original WESPA ratings system through a number of smaller fixes and changes."

Aside from a minor visual display change when the WESPA website underwent an update, the format and display of Aardvark's ratings has remained unchanged.

In 2019, that is all about to change.

Work has commenced in the background by Chris Lipe and Joshua Castellano (with assistance from Yong Jian Rong) to give Aardvark a new look.

Chris would be familiar to many as the head of WESPA's Tournament and Rating Committee as well as the 2014 WSC Runner Up - he has both worked as a software developer working on database-backed web applications for many years, and am co-developer of xerafin.net, a popular web-based study tool.

Joshua Castellano has spent two summers interning at Leidos doing front-end and back-end web development, and is the creator of randomracer.com, a site that aggregates annotated cross-tables games into statistics, self-documented mistakes, leaderboards, and notable games.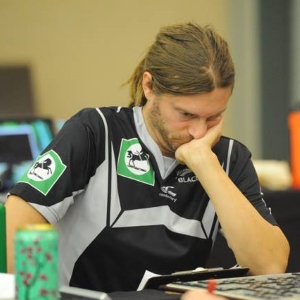 TRC Chair Chris Lipe
Joshua Castellano


So… why the need for change?

The best place to start is how all the results are processed: As Chris Lipe notes "Right now the ratings pages are generated by processing text files on the server - with (at the time of writing) over 700 WESPA tournaments in the system, it takes a good deal of time to process that many text files to display a player's rating history. And the processing gets done over again each time someone looks at any page in Aardvark."

What should be an easy thing, like changing a name, becomes extremely burdensome as each text file needs to be updated.

This isn't to say the people who created Aardvark did a bad job as Chris Lipe elaborates: "it's an ingenious tool, but web technology has progressed over the years and a lot of these issues can be addressed by updating the way that the tournament and player data is processed and stored behind the scenes."

"The main behind the scenes change is to take the tournament results which are today stored in text files, one file per tournament, and load it into a SQL database. This allows much faster access, and allows us to structure the data in a more logical way. Something like a name change would require changing it in one place rather than each tournament a player competed in, for example."

This sort of work is something that cannot be done overnight and the expected timeline would see completion later in 2019.

Already, data migration for every WESPA rated event since 1993 has been completed. There are some tournaments (approximately a handful) where the data received is corrupted and needs to be fixed or skipped. Over 30 duplicate names have been identified and will be dealt with prior to implementation in the new system.

A clean up of the archives will help ensure that when a player views their performance data (or that of other players) that there is a maintained integrity to what is displayed.

We end this article with these words from Chris Lipe which are a portent of the exciting opportunities these changes will potentially allow.

"The initial aim of the project is to migrate the existing tournament data files into a database, and rewrite the current reports in Aardvark so they use the data from that database. This will make things easier to administer, and hopefully improve performance, but the really exciting part is what capabilities we'll be able to add in the future. With the new database-backed infrastructure, we would have the ability to do things like set up a service for directors to validate the names in their data file before submission; calculate ratings on the server automatically, instantly; allow users to upload annotated games and link them to tournament results (like on cross-tables), and probably more cool features we haven't even thought of."