The Singapore Open commences on July 1, 2017 at the Fort Canning Lodge and WESPA asked some of the players for their views in the lead up to the event.
Fort Canning Lodge is noted for its central location and a reputation for excellent local buffets.
This year's Open has attracted international interest this year with players from 9 countries (plus players from the host nation) being represented at this tournament. The first Open was run in 1998 and the 2017 event will be the 18th run overall.
Cheah Siu Hean observed that the tournament favourite will "as always be Nigel Richards".
Indeed, Nigel has won this event 12 times and is the current Champion. Last year's event, though, was won on spread and runner-up Hubert Wee is also returning.
In the lead up, the last tournament held in Singapore was the National Championship, which was won by Cheah. Toh Weibin, Ricky Purnomo, Michael Tang and Marlon Prudencio rounding out the top 5 placings.
All five carry their winning form into the event and will be amongst those vying to take the title from Nigel this year (noting that Toh Weibin has a 12-11 record in WESPA rated tournaments against the current World Number 1).
Previous Open Champion Michael Tang recalls "I won the inaugural Singapore Open in 1998 and I hope it will be 18th time lucky…I was 31 and I believe that was my 1st major victory with $1,000. I beat Ador Ruiz in the final game. I would like to mention that Ador has recently passed away."
In previewing the event, Malaysia's Alex Tan declared "I'm travelling all the way to expensive Singapore (by Malaysian standards) during the busy (traffic-wise) Muslim Syawal season just to knock a few games off Nigel!"
Singapore's (2017 Championship Runner-Up) Toh Weibin was more cautious with his expectations: "I will be hoping to win at least one draw to start, having lost 7 out of 7 draws to start at the Nationals two weeks before the Open. The most painful moments being my opponents picking D and F to my E and G respectively, and a Z pick straight out of the bag."
With the calibre of players in attendance, the first weekend in July 2017 promises to be a display of top level tournament Scrabble featuring some of the region's best players. The current player list (at last record) was:
Alex Tan MYS
Andy Kurnia SGP
Caroline Scowcroft AUS
Charles Carneiro IND
Cheah Siu Hean SGP
Douglas Tsang HKG
Eric Kinderman UAE
Goutham Jayaraman IND
Karen Richards AUS
Kumar Nathanael Elijah SGP
Lee Guan Hui SGP
Marlon Prudencio SGP
Michael Tang SGP
Nidhi Singhvi IND
Nigel Richards NZL
Olagunju Olalekan (Emmanuel) NGR
Rebeccah Booth AUS
Ricky Purnomo SGP
Rod Talbot AUS
Suthiraphan Assarat THA
Tan Mun Ri SGP
Tan Yan Keat Jarrett SGP
Toh Weibin SGP
Tony Sim SGP
Wee Ming Hui Hubert SGP
Yeo Kian Hung MYS
Leon Tan SGP (reserve player)
Goutham Jayaraman has foreshadowed a blog of games from the event, prepared after Quackling games.
We are looking forward to what Scrabble news there is out of Singapore this weekend.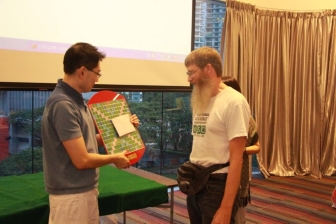 Nigel accepts his trophy after winning in 2014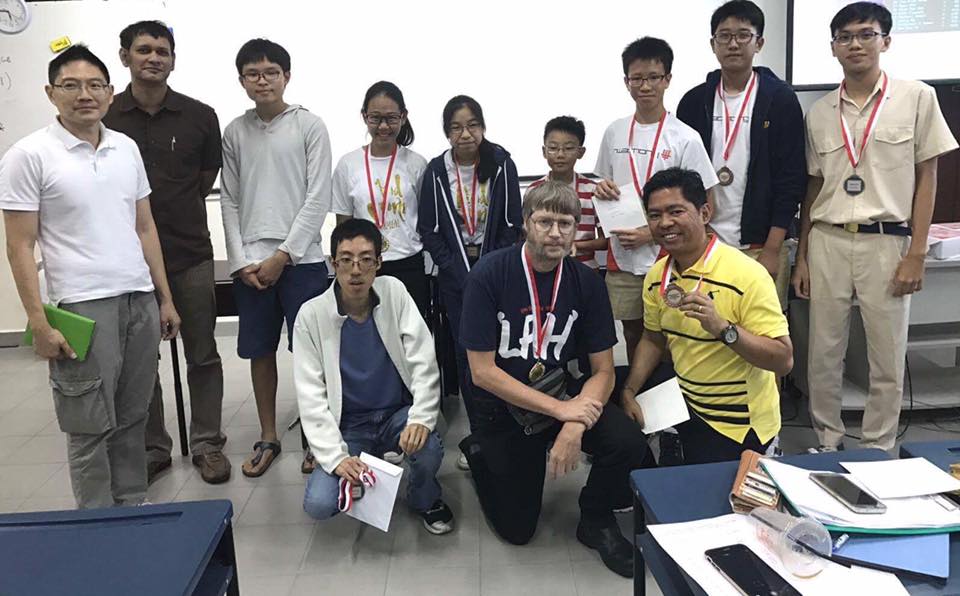 2016 group photo